YPOP – Young Professionals of the Palm Beaches
Young Professionals of the Palm Beaches (Ages 21-39)
The Young Professionals of the Palm Beaches is the premier Young Professionals Group, providing professional development and networking opportunities for emerging business leaders under the age of 39.
YPOP offers monthly programs and events designed to give young leaders the opportunity to exchange ideas, grow professionally and share common interests while gaining insider's view of the regions business scene.
2021 Membership Fees
$36 annually for Chamber Members
$72 annually for Non-Chamber Members
Dues will be prorated monthly.
Membership includes free access to all YPOP events for the year
A Message from the YPOP President
"The Young Professionals of the Palm Beaches has been vital in my personal and professional growth over the past few years. I have built lasting relationships with like-minded individuals and have expanded my network. There are great things to come for our group in 2019 and many opportunities for our current and future members to have a community they love to work, play, and live in."
Julia Murphy, MSW
Chief Development Officer
Compass Community Center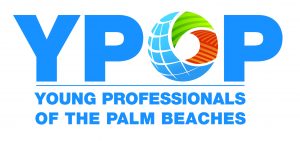 YPOP is for Young Professionals (Ages 21-39)
YPOP MISSION
Our mission is to educate, mentor and cultivate young professions while providing a forum in which their voices can be heard and their needs as individuals can be met.
GUIDE TO YPOP
YPOP HOTSPOT - Monthly Networking Mixers
YPOP 411 - Professional Development Seminars and Educational Behind-the Scenes Tours
YPOP CARES - Volunteer Opportunities
YPOP CONNECT - Opportunities to Meet Community Leaders
Thank You to Our Sponsor!