YPOP – Young Professionals of the Palm Beaches
Young Professionals of the Palm Beaches (Ages 21-39)
The Young Professionals of the Palm Beaches is the premier Young Professionals Group, providing professional development and networking opportunities for emerging business leaders under the age of 39.
YPOP offers monthly programs and events designed to give young leaders the opportunity to exchange ideas, grow professionally and share common interests while gaining insider's view of the regions business scene.
2019 Membership Fees
$36 annually for Chamber Members
$72 annually for Non-Chamber Members
Dues will be prorated monthly.
Membership includes free access to all YPOP events for the year
A Message from the YPOP President
"The Young Professionals of the Palm Beaches has been vital in my personal and professional growth over the past few years. I have built lasting relationships with like-minded individuals and have expanded my network. There are great things to come for our group in 2019 and many opportunities for our current and future members to have a community they love to work, play, and live in."
Julia Murphy, MSW
Chief Development Officer
Compass Community Center
The Young Professionals of the Palm Beaches (YPOP) Learn About Reinventing Yourself in a Crisis Part 3
Over 35 young professionals joined our monthly virtual YPOP meeting series - Part 3/4; "Reinventing Yourself; Growing stronger in a Crisis; how to not only survive but to thrive and reinvent yourself" on July 30.
The panel of speakers included Board & Trustee Members:
Each individual speaker shared how a professional "crisis" situation resulted in reinventing their business, career choices, and a resulting "strategic, planned, and needed pivot" they had to make to not only survive but thrive.
The common themes to their stories were:
Be honest, have integrity in all you do and understand the importance of building trusting relationships throughout your career at all stages; to simplify "Do what you say you will do – if you tell someone you will do something – follow through and do it"!
Live your passion and ask the hard question "Am I doing my passion" – what do I have to offer the world. Know your clients and inquisitively determine – what do they need that I have to offer that they don't even know that they need yet – how can I be out in front of them to help them solve a problem?
Volunteer and be active outside of your "day job" doing your passion and to explore your passions – good things happen when you volunteer and "give wholeheartedly" without a motive of seeking something in return. Make your community stronger without seeking a reward.
Seek advice, wisdom, knowledge, counseling and guidance from a mentor(s); find people who have more life experience than you and ask for their guidance.
Declare, Determine, Decide and Define your own success; say to yourself every day - "This will work" – believe in yourself and determine that failure is not an option – choose a daily mindset of success, make a plan, be enthusiastic about your plan and do three things each day to advance your plan – even when you cannot see success ahead of you.
When feeling overwhelmed, welcome it, name it, recognize it and tell others and ask yourself – What are 3 things I can do right now to change my situation for the better?
Be flexible and open to change, as unexpected and undesirable things and circumstances are bound to appear, that are beyond your control. So your job is to ask yourself – what can I do, then create a plan, pivot, be flexible, and ask for help. Repeatedly ask yourself, "What do other people need, that I uniquely have to offer the world"? Determine what this is and then give it abundantly, generously, and enthusiastically, without seeking any personal gain in return. It is likely that as a result, good things will happen in your life.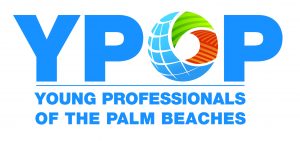 YPOP is for Young Professionals (Ages 21-39)
YPOP MISSION
Our mission is to educate, mentor and cultivate young professions while providing a forum in which their voices can be heard and their needs as individuals can be met.
GUIDE TO YPOP
YPOP HOTSPOT - Monthly Networking Mixers
YPOP 411 - Professional Development Seminars and Educational Behind-the Scenes Tours
YPOP CARES - Volunteer Opportunities
YPOP CONNECT - Opportunities to Meet Community Leaders
Thank You to Our Sponsor!